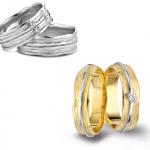 Love is like a SUNNY DAY
BRIGHT and SHINING
A modern collection designed to celebrate that magic moment of your commitment!
Our men's and women's rings are a perfect match made in heaven. The women's ring holds a diamond, that most precious and perfect of gemstones to reflect your undying love and passion. Every single ring is a work of art of exceptional quality, certain to beguile you a lifetime.
Our wedding rings are designed and fashioned in Belgium by the hands of artists, made with precision to the very highest quality standards. D'euXx wedding rings are Belgian designs that combine your own creative input with our artistry for ultimate emotional impact.
Flawless one-of-a-kind and eye-catching pieces of precious jewellery of supreme quality, bristling with emotion and sensual pleasure, D'euXx wedding rings exude the sheer luxury and exclusivity that only precious materials bring.
d'euXX wedding rings ….
Adding sparkle and lustre to your special day!